MEAN Stack Development Company
We cater resourceful solutions for every vertical of your business
Complete MEAN Development Services and Solutions

Development Support
At Kbizsoft, we provide 360-degree MEAN stack application development services to all business sizes. As the leading development service provider our ultimate goal is to deliver quick, easy, and robust business solutions that fit your business model. Our expert developers have helped global businesses in developing scalable and efficient apps for web as well as mobiles.
Consulting Assistant
We always pay attention to our client's requirements, so they can receive worth over their money spent. Our team offers complete customer assistance before outsourcing MEAN application projects. Through our commendable services, we help clients understand project complexity and the broader use of applications with our framework.

Migration Support
Kbizsoft provides dependable migration/porting services that include smoothly migrating or porting your legacy business application to MEAN stack technology. We carry out the migration process smoothly, taking all necessary precautions to ensure complete data security. Hire MEAN Stack Developers today to give your app a boost and experience increased business value.

Performance Support
At Kbizsoft, our team can perform audits on your current MEAN Stack project and deliver you true reports including positive and negative points. Reports will be delivered by experts who have vast years of experience.

Deployment Assistant
The final product that is released to the market is supported by regular updates, annexations, and replacements based on the needs of our clients. Our developers are committed to completing tasks on any shift or at any time.

Maintenance Support
Being No.1 in the industry, we have expanded our maintenance support service so no client feels laid back. We provide 24/7 assistance to our clients because we believe in customer happiness. If you ever feel an issue while using our products, feel free to call us.
What is the MEAN Stack?
MEAN stack is one of the popular open-source web stack used to create full-stack development web applications. Also, it is a combination of four different technologies, which are based on JavaScript.
MEAN Stands for-
M- MongoDB
E- Express
A-Angular
N- Node.js
This full-stack development leads to the faster development of web applications. Angular is used for front-end development whilst Node.js, MongoDB, and Express are used for backend development. In addition, there are variations of MEAN stack development such as MERN and MEVN. Regardless of which is your favorite, MEAN stack is good to go.
How does the MEAN stack work?
MEAN is a complete JavaScript stack that is primarily used for cloud-ready applications. It is specially designed to build web applications in JavaScript and handle JSON easily. MEAN application provides an advantage of cost savings and improvements of the cloud.
Our cutting-edge MEAN Stack Development Services
By hiring us, you will get full-featured MEAN stack solutions that lead you to success.

Build APIs & Websites faster
Kbizsoft will help you deliver high-quality content with no back-end layer at all. Our dedicated team builds robust websites and customized APIs, which is essential in having the web application according to your choice.

Build Enterprise Applications
Our team is well-versed with enterprise-level MEAN stack development services, which assist you in synchronizing your business better and improve productivity by leaps and bounds.
Develop E-commerce Solutions
Kbizsoft developers know what matters for their customers, and we deliver exactly what they want. Our dedicated team builds robust and secure E-commerce web applications. Thus, you can reap the maximum benefits of this across the various platforms.

Custom CMS Development
We have experienced professionals with advanced technical skills who make custom CMS solutions for your business that will provide you with unbeatable growth and success.
Build a Wide Range of Applications With MEAN Stack Development Services
Kbizsoft's mobile and web development expertise includes world-class features and functionalities that assist you in becoming market leaders. Our MEAN stack development services are cost-effective so that you can reach us hassle-free.
MongoDB Database Manager Solutions
As part of our stack development, we use MongoDB for fast data storage, sharing, and usability. Using MongoDB, our expert team of developers creates modern RESTful APIs, scalable and responsive applications and websites. Our stack development team consists of object-oriented programmers who work well with MongoDB because it stores data in a format similar to JSON.
ExpressJS Framework Development
Kbizsoft, a leading ExpressJS development company, builds robust, intuitive, and flexible web and mobile applications. Our express framework excels at using the capabilities and streamlining complicated solutions. We maximize effectiveness and incorporate the greatest features, such as streamlined routing, integrated databases, and many more to fully realize the advantages.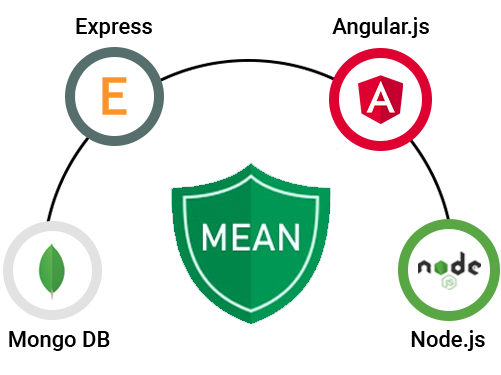 AngularJS Web and Mobile App Building
For easier interaction with the dynamic views present in web apps, our team uses it to extend the capability of basic HTML. We use out-of-the-box AngularJS directives, filters, controllers, modules, and expressions to build streamlined, dynamic applications with increased effectiveness, scalability, and flexibility.
Node.js Server-Side Environment Programming
Our team has in-depth knowledge of Node.js in designing fast and highly scalable applications. We can build back-end network programs for diverse uses using ExpressJS, AngularJS, or another framework as a layer. We have delivered real-time, flexible, high-traffic, and traffic-driven mobile apps.
Why Partner With Kbizsoft For Mean Stack Development Services?
We are a leading MEAN stack Developers Company specializing in developing user-friendly and highly responsive web and mobile applications using cutting-edge technologies. Whether you want to create a single-page web application or complex web solutions with multiple pages, we are here to support you.

Absolute Transparency
We work for customers, so we always maintain high transparency as well as a straightforward working style. Our team respects your ideas and decisions. We have NDAs in place to make our working relationship much cleaner and more secure.

Experienced MEAN Stack Developers
Our MEAN stack developers are highly experienced with over years of experience. They have worked for international clients and projects of any size. We deliver seamless communication and effective solutions that will become you a market leader.

Free & No-Obligation Quote
Kbizsoft MEAN stack Development Company is famous for its no-obligation cost policy. Once you discuss your project with our team leads, we will get back to you within 24 working hours. Call us hassle-free!

Straightforward Project Management
Our skilled MEAN stack developers always address the project's complexity and handle your development process smartly. We do not make false statements because we believe in transparency that develops a long-term relationship with clients.

Updates And Reporting
We deliver daily, weekly, and monthly reporting to our clients so they can stay updated with the project development process. This means you will constantly be in the loop. We prefer email, Skype, and call to get in touch with you.

Flexible Engagement Models
We are not limited to management tools. Instead, we deliver flexible management tools that help you in order to receive project success and accomplish your fundamental business requirements.
Has been servicing clients worldwide with success for almost twelve years.
Has received high ratings than competitors.
Incredibly talented CRM Developers are available to handle all of your CRM needs.
Professionals with dedication and experience
In-house team is incredibly skilled and committed individuals prepared to assist you at all times
Hire MEAN Stack Developers
Kbizsoft is the No.1 MEAN Stack Development Company dedicated to providing customer delight through the application process and final outcomes. Choose from our highly dedicated MEAN Stack developers that deliver top-notch features and functionalities.
We have an agile team with vast experience in converting simple projects into huge successes. So, what are you waiting for? If you find us the right choice for you, give us a call. We are eager to hear from you.
Let's turn your business idea into reality
Do you want to experience the best in class quality mobile apps? Send us your inquiry and one of our executives will catch you up in no time by Call, Email or Skype.