Many desire to have their own online store. This is why they prefer Magento or Shopify. But the problem arises when they have to choose one from them.
If you fall under the same category and are not able to decide whether to go with Shopify or Magento.
No worries, here is a complete guide on the same. All you need to do is to go through this guide and till the end, and you will be better able to decide which platform is best for you.
Shopify: It presents you with an easy to use solution for eCommerce or we can say for building online stores. All it requires is a monthly fee and it will support both fledging and high volume businesses.
Magento: It is an open-source platform like WordPress. It is available for free to install on your computer. You only need to pay for web hosting, security, and extensions. Although it is one of the powerful platforms, it is difficult to utilize this platform effectively. This is so because it requires coding. Thus it is suitable for enterprise-level businesses that have their own development teams.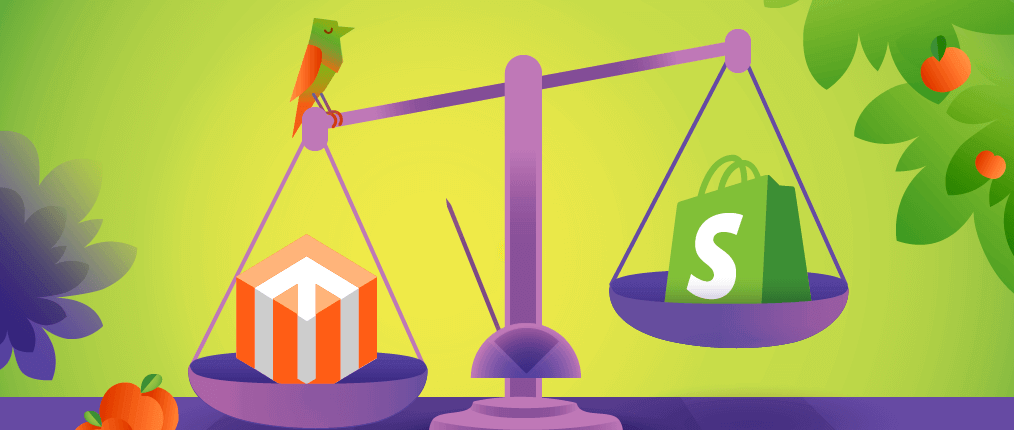 Magento was further replaced by a new and improved version named Magento 2 in the month of June 2020.
Well, let us compare both on the basis of various factors. This will make it easy for you to decide which platform to go with.
Ease of Store Creation: When it comes to creating an online store, both platforms provide you with enough capabilities to make this task easy. They also require minimum efforts to maintain them in later stages.
When it comes to basic functionalities, shopping carts, collections, checkout modules, product pages, and so on. Both are head to head here. The difference begins when it comes to some advanced and intermediate features. Magento 2 provides you with more advanced features that are built into its framework. On the other hand, if you want the same on Shopify you are required to use apps to extend functionalities.
Themes: No eCommerce store can perform better without quality themes. This is so because themes attract the audience towards your platform and increase their time spent. So this is the area where you are required to pay attention.
When it comes to themes on Magento and Shopify both are not going to disappoint you.
Shopify comes with a large number of themes. Although the free themes are quite small in the case of Shopify when compared with Magento, they still serve the purpose. So if you are looking for good community support and want to keep expenses low in terms of design, you can go with Magento.
Apps and Add Ons: You will get more than 100 different apps and ads-on on Shopify. These are capable enough to provide you excellent overall assistance. They are even growing at an alarming rate.
These apps are professionally tested and will help you in email marketing, accounting, introducing loyalty programs, and so on.
On the other hand, when it comes to Magento, there is no match as it is an open-source platform. You are going to enjoy plenty of apps. Magento is offering more than 5000 different apps and add-ons. This will let your users enjoy the fun of using the online store.
SEO Friendliness: When it comes to the online store, the SEO factor plays a significant role for the business website. This factor will make sure that your store is going to be displayed on top Google search engine result pages. When it comes to comparison of Shopify vs Magento, this is the area where both have worked a lot.
This is why you can go with any of them as both will help you to drive organic traffic. After all, visibility is what matters the most. More visibility means more visitors. As a result, you will get less competition and more sales.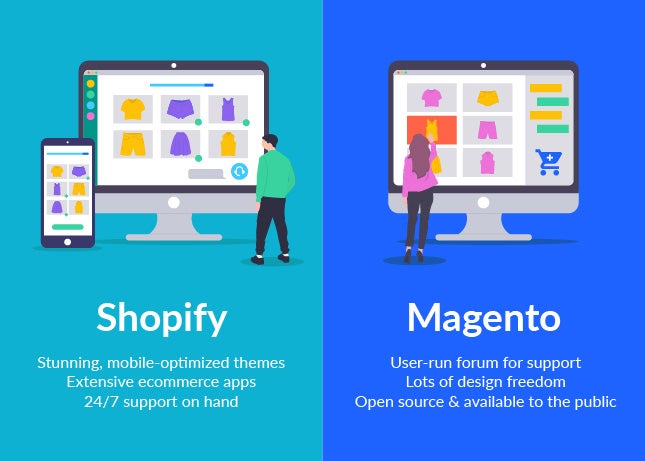 Customization: Customization lets you make the changes that you want. This is why it matters a lot. When it comes to customization, both platforms provide you with robust customization capabilities. Both platforms provide you with an advanced interface. This will let you edit CSS and HTML code directly.
Customization on Shopify is quite convenient as compared to Magento due to its simple and menu-driven method. But when it comes to capabilities there is no match to Magento. It is an open-source framework, thus you can easily customize it in the way you want.
But keep in mind that for customization on Magento you are required to have some technical knowledge which is not the case with Shopify.
Payment Gateway Integrations: Payment gateway is one of the crucial factors that enhance customer experience on the online platform. So it becomes important to integrate payment gateways properly.
Shopify offers you more than 70 different payment gateways. This means you can provide your customers with multiple payment options.
This is not the case with Magento as it has a certain limit attached to it. However, this doesn't stop Magento. This is so because Magento provides you an option of third-party add-ons. Thus you can easily integrate additional payment gateways. This even proves to be a better option as this provides you with more flexibility that is not present in the case of Shopify.
Cost: When it comes to a small scale business or newly started platform, budget plays a crucial role. This is the reason why you must be aware of the cost.
When it comes to Shopify, there is not any setup fee. You are also going to get a 14-day free trial. The same is the case with Magento, it doesn't have any set-up fee as it is an open-source platform.
But yes, you have to pay a monthly fee to Shopify for several plans as per your need. On the other hand, you have to pay for hosting in the case of Magento. This payment will vary on the basis of the hosting service provider and the plan.
Conclusion:
When it comes to choosing the best platform between Shopify and Magento it all depends upon your current situation and needs. If you are a technical guy or you want to go big, there is no match for Magento if you go with any certified Magento expert. It provides you with seamless opportunities. On the other hand, If you are a beginner, Shopify is good for you. It is a stable platform and is easy to use. Rest the choice is yours. You can go with the one that fulfills your needs. Moreover, this guide has presented you with the idea that you were looking for.