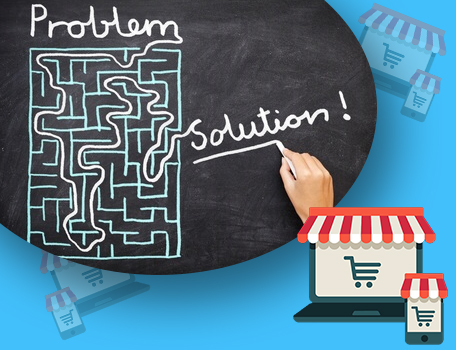 There's nothing worse than investing lots of time and effort into creating your new website only to find that hardly anyone visits it and that no one buys our products. The products and services you're offering are of good quality, but something still turns visitors away.
Why Don't People Buy from Your Website?
To grow your sales, you need to encourage visits from all popular sites. Developing a web presence online can increase your store traffic considerably, boost your sales, and grow your business. You can achieve the goal by creating useful content for your potential buyers in many places, as well as other free sites on the web.
In order for your customers to purchase something from your online store, you need to ensure that their experience is smooth from start to finish. There are a lot of things that can go wrong even before visitors reach the checkout and some of the major queries are:
Problem 1 : Is your website secure?
Solution : Internet security has always remained a major concern with online consumers and these concerns are periodically reinforced with high profile Internet fraud news stories. Even though Security has come a long way, with strong encryption becoming the norm, security is still a matter of concern with online consumers.
Settle on an e commerce platform that utilizes strong encryption for payment processing and consumer data retention. Your website host play an important role in securing your website. Ask your hosting provider about the security system at the data center that physically hosts the consumer data. As well, ensure that hosting facility has proper disaster recovery procedures, servers are backed up daily, back-ups are periodically stored off site in case of physical disaster.
Importantly, all the above measures need to be communicated to the consumers to gain their trust. Generally online shoppers are aware these days to look for a small lock and https:// in the address bar to ensure security before going ahead with online transaction. In addition, an important way to gain consumers trust is to have a prominently displayed Contact us page with phone number and physical mailing address. Consumers will be confident that they can contact you in case of any incident while shopping online on your website.
Problem 2 : Is your Checkout process simple enough?
Solution : Almost 50% of consumers abandon the checkout process. Studies show that the top reasons for abandoning the checkout process are: Registration required to buy, Product was out of stock, Hidden charges at checkout, customers were there for just price comparison, and No time to complete the checkout.Possibly as an online store owner, it is imperative to take the steps needed to reduce the loss of sales.
Some customers just don't want to register but want to make purchase. Though for marketing purpose it is good to have customer's data for future promotions, Your online store should have option of guest checkout in case user doesn't want to register. For already registered customers, platform should auto fill most of the checkout details like billing and shipping information with a provision for user to override it.
Problem 3 : Can your customer find the product they have been looking for ?
Solution : The e commerce platform should track stock and match sales to stock. If the e commerce platform's stock tracking function detects a product has sold out, the online store can either flag the item as out of stock for the consumer or doesn't show the product on website.